It was midnight as we pulled up to the gate (a piece of twine strung between two fence posts); two bubbling golf carts converged on our location with suspicion. "We are the cooks!" I told the guys who greeted us from the first cart. In the second cart with one headlight barely hanging on as it bounced through the cow pasture was Jim Wright, one of the festival organizers. After hugs and a friendly drink with the die-hard early birds, James (my travel associate), Sweet (my canine companion) and I sat atop the van for a look at the stars before turning in after two long days on the road.
We had made it to the 2019 Oldtone Roots Music Festival. This would be my third consecutive year attending and working the festival. I first came to the festival in 2017 as a musician in Sabra Guzman's band. I have three jobs that make up my business, Freelance Cajun, one of which is being a photographer, another as a touring musician, and the final as a cook. The first year I took part in the festival, one way or another I found a pack of pork and made a gravy to feed some of the late night festival revelers. This "random act of Cajun" did not go unnoticed and for the past two years the Oldtone organizers have brought me back up to feed the staff and artists, who make the whole experience possible each year.
If you are unfamiliar with Oldtone I strongly recommend you do due diligence to understand this gathering a bit more. Oldtone is a folk gathering based around roots music of all kinds. Fine early American music can be heard played through beautiful old instruments in an incredibly aesthetically pleasing scene. The wooden main stage sits as a centerpiece of the festival, permanently in the middle of the Cool Whisper Farm's cow pasture. The main stage acts start early in the day and give you a feel of an old hayride type of show, presenting early country, Bluegrass, Old-time and Blues acts. The dance tent packs a punch from daylight hours into the early hours of the morning, where the party really comes alive.
One of the featured dance hall acts was Jackson and the Janks, a New Orleans-based rock and roll and rhythm and blues garage gospel band. With the bass sax holding it down in place of a bass player and sacred steel played by the one and only Matt Bell, they're worth looking up.
Sam Dores layed down solid beats as the house drummer for many of the festival acts. It was a thrill to watch and shoot him playing. As a bassist I find myself watching drummers play more often than anyone else on stage. I love watching drummers play passionately, which is evident in Dores' playing as the drum set moves and evolves as a musical instrument wherever its parts may land. Drummers that get into it so much that their ass comes off the seat are alright with me.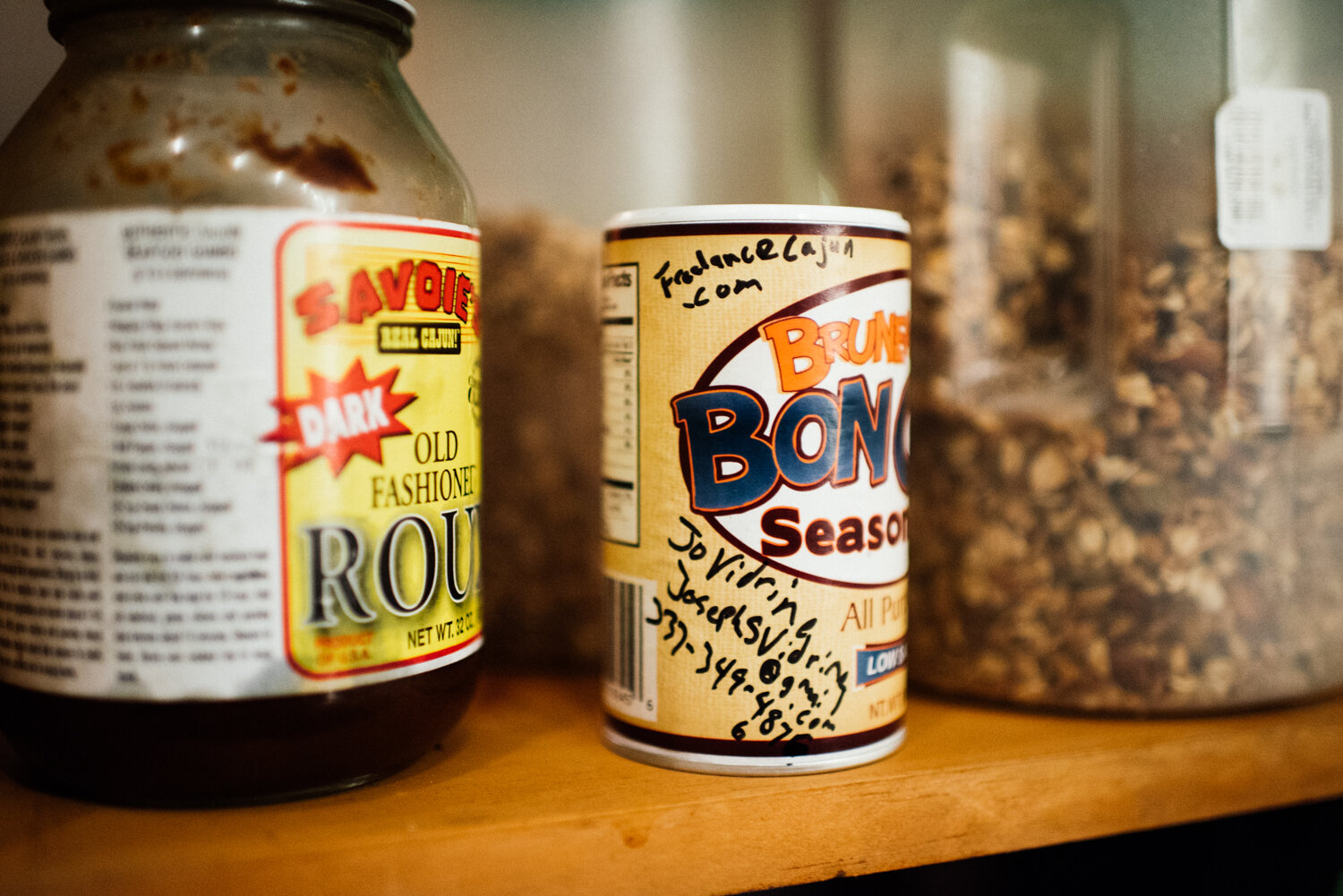 As I mentioned James Billeaudeau made the ride up with me to the festival this year. James is a great photographer and just happens to also be great help in the kitchen as well. I was glad to have him help me out as I was scheduled to cook for over 100 heads the first night of the festival. That number would rise as more artists, staff, and volunteers flooded the artist hospitality area throughout the weekend. Over the weekend we served a few large Louisiana delicacy dishes including jambalaya and gumbo. The main dishes all came out wonderful and were well received by folks. When cooking for large amounts of people, I like to accommodate folks with special dietary needs such as vegetarian and gluten free eaters.
Honestly, the dish I'm most proud of was my vegetarian gumbo option. I'd never made a veggie gumbo or "gumbo z'herbes." I made a stock out of the vegetable cuttings and scraps we had piling up in the kitchen area. I roasted up a few of the onion ends and other aromatics and threw them into the stock. After hours of simmering we had a beautiful vegetable stock forming. Making it taste like gumbo was the next hurdle. Adding roux to thicken and Bruneaux's Bon Cajun Seasoning made the flavors come around. With a little bit of onion and garlic powder the essence of gumbo was achieved. We roasted beautiful local carrots, cauliflower, and threw some collard greens in for sustenance. If you are curious about this recipe, reach out to me and I would be glad to share more!
Sausage
The one ingredient that definitely isn't available outside of South Louisiana is smoked sausage. "Is that andouille?"— a common question of cooking arena spectators. I've always known andouille to be a seasoned pork sausage historically made with the pig's large intestine as the casing. I've also known andouille to be smoked and come out looking somewhat like a Cajun summer sausage. The sausage I use and believe that most cooks use is just regular ole Cajun pure pork sausage. For the Oldtone trip, we brought up about 30 lbs of Comeaux's Pure Pork Cajun sausage. I've been buying their sausage for the last few big cooking gigs I've done. I really enjoy Comeaux's product and it has a great seasoning blend and a good texture. As far as "mass-produced" Cajun sausage goes, I would place their product at the top of the line. Thank you to the fine folks at Comeaux's Specialty Meats for making a worthy product. Find out more about their product here: https://www.comeaux.com/ .

Roux Rant
When cooking in lands far away from Louisiana it is important to bring with you the ingredients that can not be found elsewhere. If cooking a gumbo like we did for 200 people on Saturday night of the festival, it is imperative to have all the necessary Louisiana pantry goods to make this possible. There are two schools of thought when it comes to roux. I'm a firm believer in jar roux based purely in the time saving qualities of the product. I am able to make roux just like anyone's grandma or Nonc Gerald. However, anything I could do to the two basic ingredients, flour and oil, wouldn't end up any different than what comes out of the jar. If you do find yourself without jar roux on the road and don't know how to make it, simply Google how to make roux— take your time stirring it constantly and never let it get scorched. By the time your flour and oil mixture is saddle-brown it is done. If you prefer a darker gumbo then go 'head and keep cooking the roux, but know that you are reaching a crucial moment where your dish could go from good to shit in seconds. My last roux tip is that after you've cut the heat off, be aware that the residual heat in your cast iron pan will continue to cook the mixture. I usually cut the heat just before I feel like the roux has reached the desirable color.
When the Lights go down
After the music is done and throughout the day there is a constant hang out going on in the campgrounds. When wondering the festival's extensive camping scene you'll find scenes that will have you wondering where you are in the world, even wondering what year it is. Festival-goers take pride in bringing out some very cool vintage campers from vacations past. You can find anything from 60s pull-behind caravans to overland ready Land Cruisers acting as weekend domiciles. Fire lit scenes of late-night eating and tune sharing is not an uncommon sight when roving through the festival landscape.
Late night tom foolery in the form of " bucket fights." a friendly bout between two contenders. No strikes to the face or deliberate hits on the opponent. Both participants must sit on their bucket toe to toe, and knee to knee. The point of the game is to make the other's bottom end leave the bucket. Who's willing to try this at the next family picnic?
This was the finally battle at the 2018 festival, Tron vs. Donny.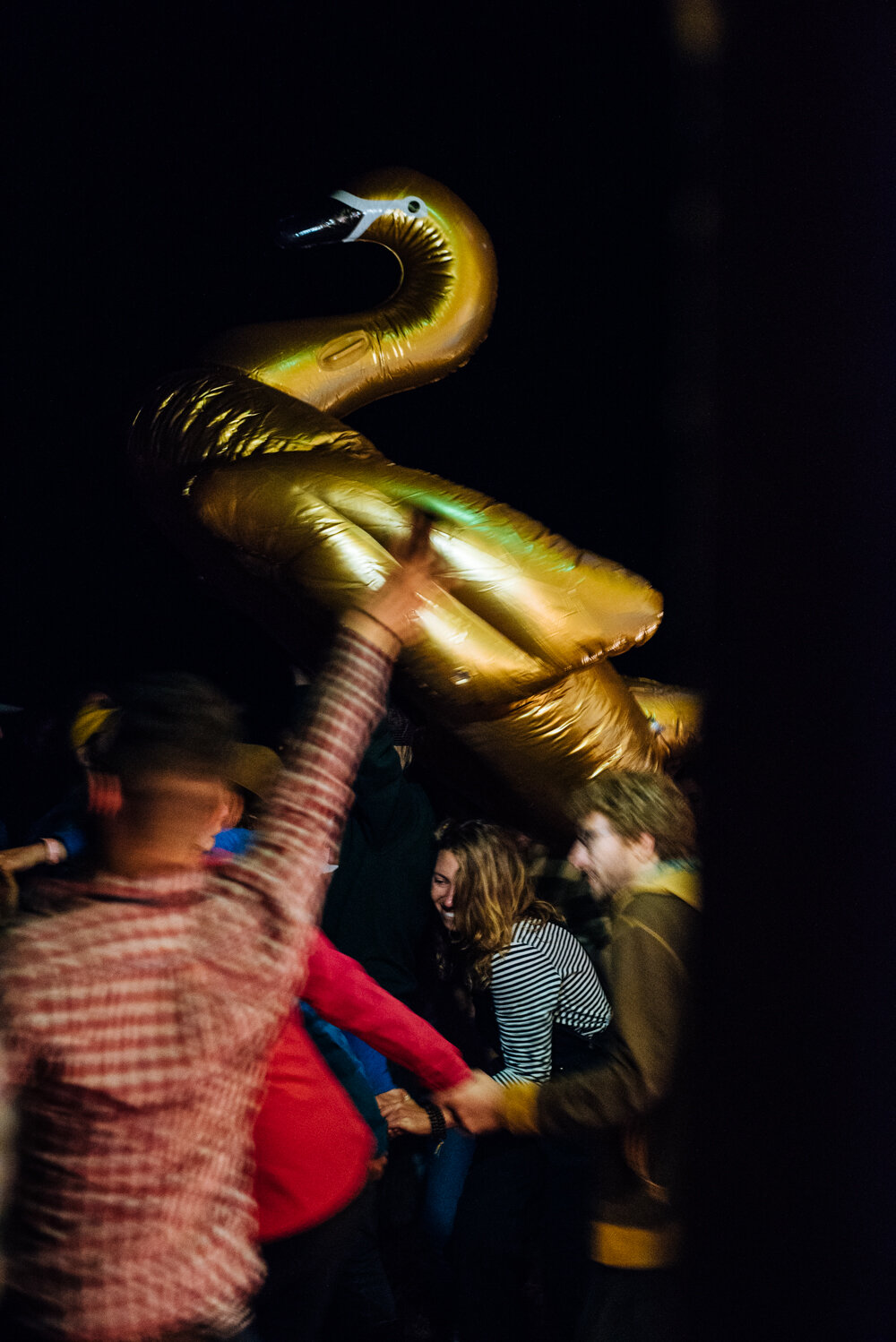 Oldtone is a gathering that I would recommend to anyone interested in furthering their knowledge of what is old music in a new world. Feelings of excitement flood the mind in times leading up to being a part of an event such as this. after being there you will have a familiar feeling of not wanting it to be over and never wanting to leave. These are the feelings that keep us coming back to special events and gatherings in our lives.
If you are looking for a new experience for yourself, or your family, then I strongly suggest looking into the Oldtone festival as a destination in your future. Make the trek up to some cool, end of summer whether in upstate New York . Trust me you won't forget the time well spent.
A special thanks to all of the hard-working folks who make this festival and others like it a possibility every year. The primary reason I continue to attend this event is because the core group of people responsible for planning the event put so much of themselves into it. If the festival wasn't built with love there it surely wouldn't be the same.
I again encourage whoever this may reach to look up the Oldtone Festival and support what they are doing. Being a part of events like this can only enrich your life in new ways and open your world up to new people and cultural exchange that I promise can't be experienced on the internet.